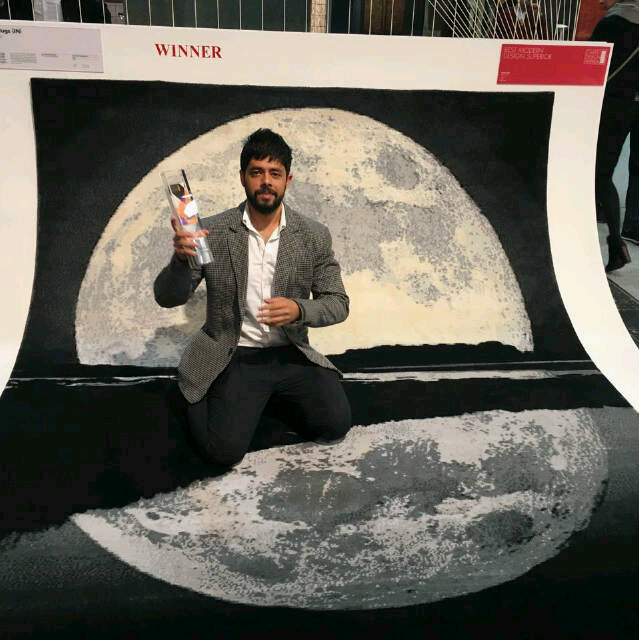 We at Sterling believe in happiness!
Happiness that is shared. When every customer we serve feels that he has made a right choice and stays happy with it. No regrets. That's what keeps us happy!
This doesn't come easy, though.
Behind it is the underlying philosophy of understanding every customer's specific dream. And then a holistic and sincere effort to realize that dream. To make it come true. It starts at the beginning. With maintaining stringent measures of quality control in its manufacturing process from using the finest raw materials to giving utmost attention to the minutest details of final processing. The result is rugs woven by master craftsmen getting the finish they deserve. That's poetic justice.
But this too doesn't come easy.
At Sterling Rugs, we believe in decorating homes with elegant styles and luxury. We believe in making rugs that are beautiful and distinctive, that will become heirlooms to be loved and cherished.
Our collection of rugs is carefully picked to offer a diverse range of designs and colors as well as a plethora of options in sizes.
From our fine traditional range of Rugs to our more extensive range of contemporary/modern rugs, we are confident you will find the right rug of your choice and ensure that our produce is of the highest standards and holds true to the name —'Sterling'.
Hence, we at Sterling Rugs ensure that the homes and workplaces of our beloved rug aficionados are a true reflection of not just their Class but also their lifestyle.
Custom (Bespoke) / Setup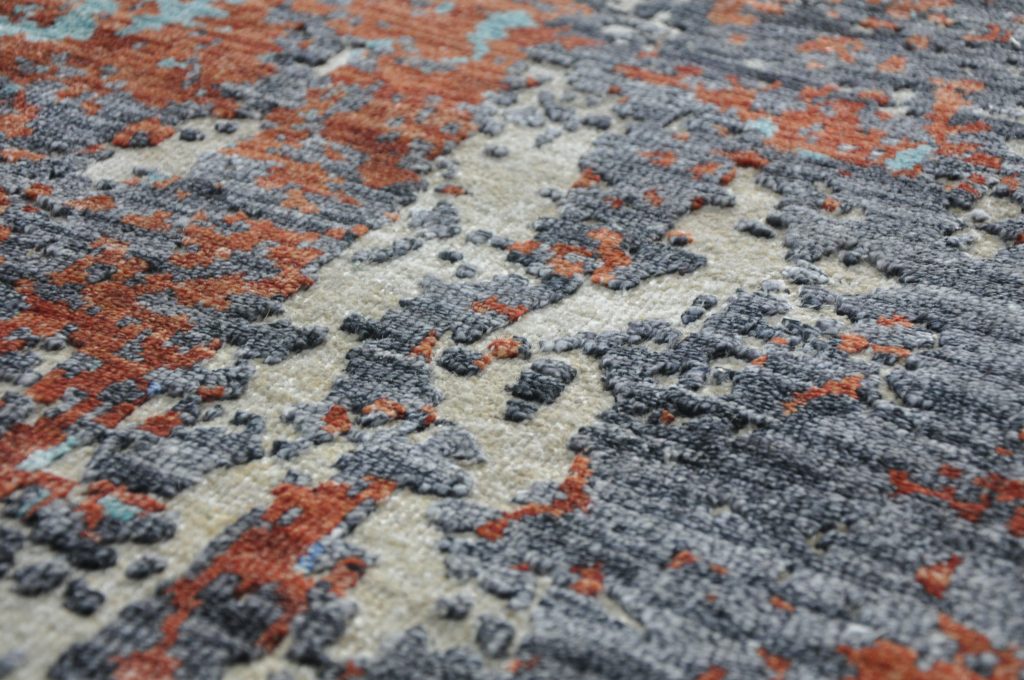 Your lifestyle need may be different from your neighbor's so keeping this in mind, we at Sterling Rugs aim at providing holistic interior design solutions and concepts that are tailor made to suit your specific need. And how is that possible?
With a well laid out in-house custom setup(state of the art processing cum finishing line), combined with the experience and expertise in creating unique individual handmade rugs has made Sterling Rugs a leading company for custom made carpets and rugs and has earned us a reputation for exceptional quality and service. We understand that your designs and colour choices are very important. Our artworkers work closely with the craftsmen to get things just right. Every stage of the rug making process is monitored by our quality controllers.
Have a favorite fabric or wallpaper pattern you want in a rug design? Or, do you want to pull colors together from your furniture and home décor to balance your interior design? We do it all.


Staff/Team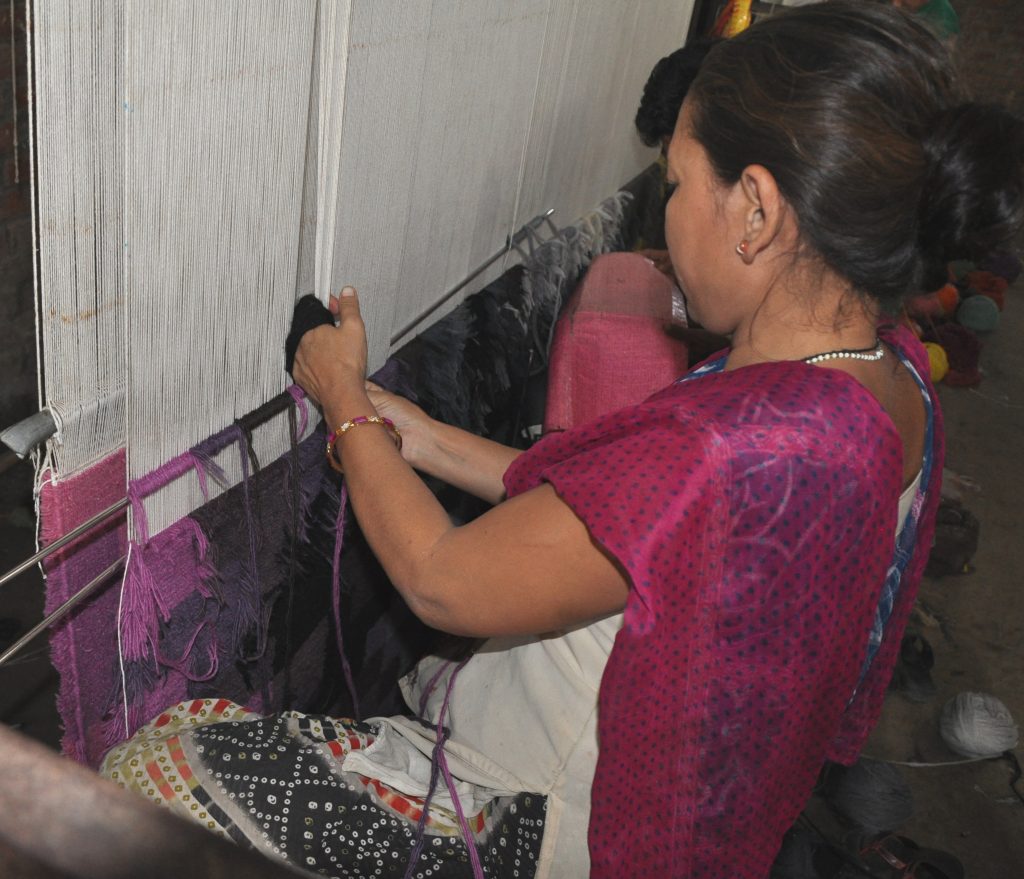 We are a close knit community rather than a nucleated workforce, where every idea is shared and discussed at length and any 'out of the box' idea is welcomed and stressed on so that we can cope with the rapidly changing tastes and fashion of the world.
Lastly, with a strict 'No Child labour' policy, efficient craftsmen, state of the art in-house finishing line and most importantly , a workforce comprising the best artworkers, have helped us achieve a standing in the era of Carpet making
Vision
After having majored in English at the prestigious Delhi University, Nauman, the brainchild behind 'Sterling Rugs' felt it was time to branch out from the family business into a more specific and goal oriented basin to cater to the growing demand of the floor aficionados.
Needless to say, before the regular college stint , the major chunk of his life having been spent in the confines of the prestigious Boarding School Sherwood College in Nainital, in the Himalayas, has inculcated in him a sense of pride and dedication towards his field of art.
So the rich heritage of the parent company and the support of his father have helped Nauman to diversify and tap potential buyers the world over and establish not just a buyer-seller relationship but an affair based on trust and loyalty.
Keeping pace with global advancements in the Carpet Industry, we have been carrying the rich legacy forward into the homes and offices of our customers, the world over and are today the sixth generation in Carpet weaving.
Our manufacturing is largely done in-house, including
processes like dyeing, to give you the subtlest colour variations and choice.
after all, the perfect carpet requires an understanding of
materials, spaces and restrictions. precisely why the swankiest hotels
and palaces most probably have a distinct Hands look and feel. ( give pictures to relate to every product.. ( refer to hands website)
Creating a home that looks good is important, but home is also about feel: about relaxing, welcoming family and friends, being cosy and comfortable. A luxurious, wool-rich Sterling carpet is the perfect starting point. Once you've experienced the softness and warmth that it brings, you'll never look back. Sterling communicates the language of style. We believe in life's simple pleasure and are inspired by our passion for arts, beautiful things and all things Asian.
Transitional rugs
Our Transitional and Modern Rugs™ collection is a selection of Tibetan rugs with contemporary rug designs as well as the widest selection of styles designed to mix effortlessly into a variety of room environments and interior designs from traditional, to eclectic to ultra modern. Abstract naturals, modern art, lively geometrics, romantic foliage, calligraphy and tribal iconography are strewn throughout this collection. The diversity of patterns, colors and ease of customization make this collection ideal for projects of the interior designer.

All rugs are hand knotted with lanolin-rich, handed carded, hand spun 100% Tibetan wool (the most durable, stain resistant wool for easy cleaning and maintenance!) and high quality silk yarns, including custom rugs hand knotted with 100% silk pile.

Our Transitional and Modern Rugs™ are available in a variety of standard stocked sizes and colors. Color, size, shape and design can be customized to meet your exact needs. Choose from 1600 custom color shades.

Crossing varied themes, the designs of this collection have been divided into five distinct categories:Blend, ModernArt, Earth Elements, Origami and Legacy.
Wool processing technique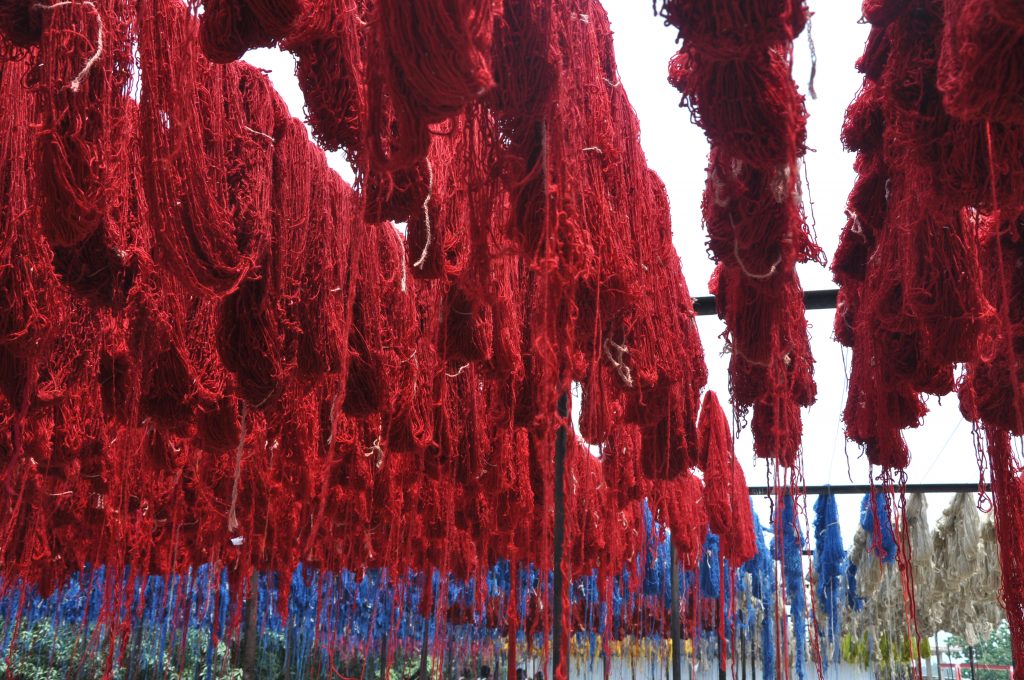 The Manufacturing Process
The major steps necessary to process wool from the sheep to the fabric are: shearing, cleaning and scouring, grading and sorting, carding, spinning, weaving, and finishing.
Shearing
1 Sheep are sheared once a year usually in the springtime. A veteran shearer can shear up to two hundred sheep per day. The fleece recovered from a sheep can weigh between 6 and 18 pounds (2.7 and 8.1 kilograms); as much as possible, the fleece is kept in one piece. While most sheep are still sheared by hand, new technologies have been developed that use computers and sensitive, robot-controlled arms to do the clipping.
Grading and sorting
2 Grading is the breaking up of the fleece based on overall quality. In sorting, the wool is broken up into sections of different quality fibers, from different parts of the body. The best quality of wool comes from the shoulders and sides of the sheep and is used for clothing; the lesser quality comes from the lower legs and is used to make rugs. In wool grading, high quality does not always mean high durability.
Cleaning and scouring
3 Wool taken directly from the sheep is called "raw" or "grease wool." It contains sand, dirt, grease, and dried sweat (called suint); the weight of contaminants accounts for about 30 to 70 percent of the
After being carded, the wool fibers are spun into yarn. Spinning for woolen yarns is typically done on a mule spinning machine, while worsted yarns can be spun on any number of spinning machines. After the yarn is spun, it is wrapped around bobbins, cones, or commercial drums.
fleece's total weight. To remove these contaminants, the wool is scoured in a series of alkaline baths containing water, soap, and soda ash or a similar alkali. The byproducts from this process (such as lanolin) are saved and used in a variety of household products. Rollers in the scouring machines squeeze excess water from the fleece, but the fleece is not allowed to dry completely. Following this process, the wool is often treated with oil to give it increased manageability.
Carding
4 Next, the fibers are passed through a series of metal teeth that straighten and blend them into slivers. Carding also removes residual dirt and other matter left in the fibers. Carded wool intended for worsted yarn is put through gilling and combing, two procedures that remove short fibers and place the longer fibers parallel to each other. From there, the sleeker slivers are compacted and thinned through a process called drawing. Carded wool to be used for woolen yarn is sent directly for spinning.
Spinning
5 Thread is formed by spinning the fibers together to form one strand of yarn; the strand is spun with two, three, or four other strands. Since the fibers cling and stick to one another, it is fairly easy to join, extend, and spin wool into yarn. Spinning for woolen yarns is typically done on a mule spinning machine, while worsted yarns can be spun on any number of spinning machines. After the yarn is spun, it is wrapped around bobbins, cones, or commercial drums.
Weaving
6 Next, the wool yarn is woven into fabric. Wool manufacturers use two basic weaves: the plain weave and the twill. Woolen yarns are made into fabric using a plain weave (rarely a twill), which produces a fabric of a somewhat looser weave and a soft surface (due to napping) with little or no luster. The napping often conceals flaws in construction.
Worsted yarns can create fine fabrics with exquisite patterns using a twill weave. The result is a more tightly woven, smooth fabric. Better constructed, worsteds are more durable than woolens and therefore more costly.
Finishing
7 After weaving, both worsteds and woolens undergo a series of finishing procedures including: fulling (immersing the fabric in water to make the fibers interlock); crabbing (permanently setting the interlock); decating (shrink-proofing); and, occasionally, dyeing. Although wool fibers can be dyed before the carding process, dyeing can also be done after the wool has been woven into fabric.
Byproducts
The use of waste is very important to the wool industry. Attention to this aspect of the business has a direct impact on profits. These wastes are grouped into four classes:
Noils. These are the short fibers that are separated from the long wool in the combing process. Because of their excellent condition, they are equal in quality to virgin wool. They constitute one of the major sources of waste in the industry and are reused in high-quality products.
Soft waste. This is also high-quality material that falls out during the spinning and carding stages of production. This material is usually reintroduced into the process from which it came.
Hard waste. These wastes are generated by spinning, twisting, winding, and warping. This material requires much re-processing and is therefore considered to be of lesser value.
Finishing waste. This category includes a wide variety of clippings, short ends, sample runs, and defects. Since this material is so varied, it requires a great deal of sorting and cleaning to retrieve that which is usable. Consequently, this material is the lowest grade of waste.
Question: I want to know the difference between Rayon and Viscose and how to classify them by visual check or burning test.
viscose (also known as viscose rayon) is a group of fabrics and yarns produced by extruding cellulose solution through holes in a spinneret, then coagulating the resulting filaments in an acid (the viscose process). There are several different sort of viscose fibres made by modifying this process, eg crimped, hollow, high tenacity (stronger).
So viscose rayon is a particular type of cellulose fibre made using the viscose process, and it's also often called just 'viscose' or just 'rayon', because it's the commonest kind of rayon. Other kinds of rayon are cuprammonium rayon and acetate rayon.
The web site Fibersource – the Manufactured Fiber Industry has loads of information about rayon and the viscose process as well as many other manmade fibres – it's one of the best I've seen.
Viscose rayon and cuprammonium rayon, being cellulose, would burn rapidly, leaving an ashy residue that smells of burnt paper. Some viscose rayons are finished with resin and leave a black skeleton of the original fabric when burnt. Acetate rayon, which is not made by the viscose process, would burn readily, leaving a hard brittle black bead (by the end of the manufacturing process the original cellulose has been turned into a different chemical derivative). Fabrics.net has some info about burning tests.
Viscose/Rayon
I've done a bit of research, and I still can't say what the difference between viscose and rayon. Some say that rayon and viscose is the same thing, just different terminology, others say that viscose is a type of rayon. For our purposes, we'll look at them together. Viscose has a silky appearance and feel, it breathes like cotton and has a good 'drape.' It's relatively light, resulting in lightweight clothing.
Its main drawback is that it wrinkles very easily, which is why I'm always finding my viscose t-shirts crumbled and crinkly.
Caring for Viscose Rayon
Viscose requires delicate hand in cool – luke warm water with washing for proper care, with no wringing or twisting (apparently this can cause the fabric to rip).
If its a relatively unimportant item (t-shirts, for example) you may be able to get away with putting it in a wash back for a machine wash on a delicate setting… but tread with caution!
Hang wet items and let them dry that way, this will also help to remove any creasing.
To remove wrinkles, iron using a medium setting with steam.
The characteristic features of nylon 6,6 include:
Pleats and creases can be heat-set at higher temperatures
More compact molecular structure
Better weathering properties; better sunlight resistance
Softer "Hand"
Higher melting point (256 °C/492.8 °F)
Superior colorfastness
Excellent abrasion resistance
On the other hand, nylon 6 is easy to dye, more readily fades; it has a higher impact resistance, a more rapid moisture absorption, greater elasticity and elastic recovery.
[edit]Characteristics
Variation of luster: nylon has the ability to be very lustrous, semilustrous or dull.
Durability: its high tenacity fibers are used for seatbelts, tire cords, ballistic cloth and other uses.
High elongation
Excellent abrasion resistance
Highly resilient (nylon fabrics are heat-set)
Paved the way for easy-care garments
High resistance to insects, fungi, animals, as well as molds, mildew, rot and many chemicals
Used in carpets and nylon stockings
Melts instead of burning
Used in many military applications
Good specific strength
Transparent to infrared light (−12dB)
What is Tibetan Rug??
To create the structure of each knot, a stainless steel rod is temporarily placed along the width of the rug. The yarn is then wrapped around the rod, knotted and then wrapped again, with the process continuing for the entire length of the rug. This results in a strong, thick and soft rug that's a pleasure to walk on. Made in India. Available in two sizes or as a runner. Quarter-inch pile height won't interfere with the opening and closing of most doors. May shed and have slight inconsistencies in edging, traits that are consistent with handcraftsmanship. Manufacturer is a member of Rugmark, the global nonprofit organization fighting to end child labor and improve educational opportunities for children in India, Pakistan and Nepal. DWR exclusive.
Rugs can be beautiful additions to your home, but they can be expensive and sometimes delicate. It's important to know how to clean and maintain them to protect your investment. These few tips can keep your rugs looking new for as long as possible. There are a few very common mistakes that people make when it comes to cleaning area rugs. These mistakes can end up subtracting years from the life of your rugs, and they should be avoided.
The best way to keep your area rug looking its best is once a month flip it upside down and vacuum the back of the rug. It is okay to use a beater bar/rotating brush vacuum on the back of a wool rug, on the front it is recommended to only use suction. Vacuuming the back with the beater bar/rotating brush helps push dirt trapped deep down toward the top of the rug. The rug is then flipped right side up and this dirt is vacuumed. For synthetic area rugs it is fine to use the beater bar/rotating brush vacuum on the front and back of the rug.
It is not advisable to vacuum fringes/tassels. When you run the vacuum over the fringes they get sucked into the beater bar of your vacuum. The fringes do not need to be vacuumed at all. Fluffing them by hand is all they need. Anything else can cause damage to them.
Be aware of carpet shampoos or sprays! Carpet shampoos are usually made for synthetic wall to wall carpet not wool area rugs. Always check the label before using any spot cleaners or rug shampoos. When you use a spotter or shampoo make sure you rinse it all out. If there is any soap residue left in the rug it will attract dirt. ALWAYS TEST YOUR RUG WITH A DAMP WHITE COTTON TOWEL TO MAKE SURE THE COLORS WILL NOT RUN OR BLEED
Make sure that you clean up spills or stains as as soon as they occur. Blot or scrape the spillage up depending on the type of spill. Blot, using a clean white 100% cotton dry towel and pressing down very hard from the outside towards the middle. Do this repeatedly, turning the folded towel over and over until you have absorbed as much moisture as possible. When you blot the spot move the towel in straight lines, NEVER RUB IN A CIRCLE, THIS CAN CAUSE PERMANENT DAMAGE TO YOUR RUG. If the spillage is milk care must be taken to rinse the area thoroughly with mild detergent and water to prevent souring of the residue. For red wine spills, use equal parts of 10% hydrogen peroxide and Dawn liquid dish soap apply to cotton towel and blot.
Neutralize pet odors by mixing 1 part white vinegar with 3 parts water and blot with white towel.
TIPS
Rugs should be rolled, not folded. When transporting in a moving van, a rolled rug should be placed on top of furniture and then have nothing heavier than a lampshade placed on top of the rug. Folding can cause permanent creases or wrinkles in your area rug.
If your rug gets really wet from a flood or other water source get it to a professional rug cleaner as quickly as possible to help prevent permanent damage to your area rug.
When you use any type of spot removers always put the spotter on a white cotton and then blotting the spot. Putting the spotter on the rug can make removing the spot tougher or can make the spot into a stain, which is permanent.
Weekly vacuuming of both sides is ideal. If that's not possible, you should do it at least once every two weeks.
After you have removed a spill from your rug it needs to be dried as quickly as possible, a fan can aid in this.
Rugs and carpets eventually get dirty. For the best possible clean get a professional area rug cleaner to do the job.
It is recommended that you rotate your rugs at least once a year. This means turning the rug end for end or 180 degrees. This helps the rug to wear more evenly. You may also want to rearrange your furniture to change traffic patterns.